The one Island that will thrill you and I'm sure you haven't even heard of it!
Curaçao!!!!
If you know me at all you will know that I suffer from a severe case of the travel bug. I come home from an amazing holiday in Morocco and instantly start dreaming up the next place to go. So obviously, since I just came from the desert I was craving a beach escape! I saw some pics of a super cute, colorful, Caribbean island pop across my Instagram feed and had to check it out. How come I never heard much about this place so close by?
Curaçao is a Dutch island off the coast of Venezuela and as soon as I started checking out some of the Curaçao hashtags and feeds, I was hooked!! The pictures made the island look vibrant and colorful….and the beaches looked breathtaking.
After a couple days of fawning over the pictures, my fiancé picked up on my subtle hints (a constant stream of DM's of my favorite Curaçao insta posts) and booked us direct flights for a 4-night stay! In case you missed that bit, Curaçao is only a 4-hour DIRECT flight from New York City!!!
Unfortunately, a week before we were set to fly to the island for a romantic getaway, my fiancé had a family emergency that kept him in NY. He surprised me by asking my best friend Cody to fill in for him.
After getting off the plane in Willemstad, Curaçao's capital, Cody and I jumped in a car and sped to the west side of the island to explore the beaches.
Speaking of exploring the island … I HIGHLY recommend getting a rental car! If you are there for a few days, it shouldn't cost you too much. By having a rental car, you will save yourself the expensive taxi rides ($35 for a 5-mile ride to the airport!), the unreliable public transportation, and best of all you will have the freedom to explore various pockets of the island at your leisure! And in case you're wondering, Uber hasn't made it to Curaçao yet.
Hitting the Curaçao Beaches
My seatmate on the flight to Curaçao had said great things about Playa Lagun so once we picked up our rental car Cody and I decided to make it our first stop! The 40-minute drive took us through some beautiful scenery, so it seemed to fly by.
My seatmate was nice, but to be honest, his taste is very different than mine. I was underwhelmed with the beach; the water is stunning but there aren't any of the amenities I love at the beach. If you do make it to Playa Lagun, bring your own towel, beach chairs, umbrella and cocktails!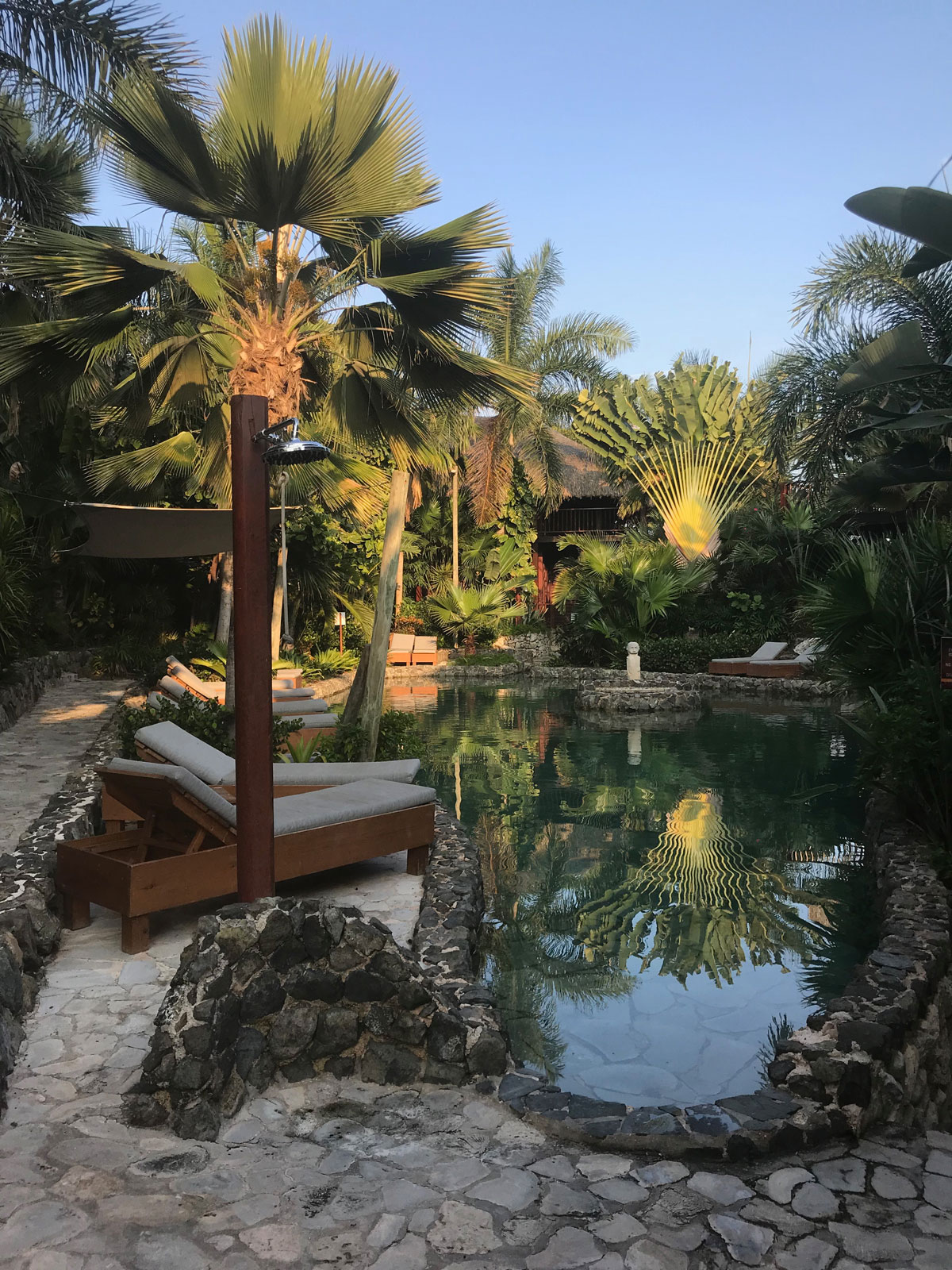 Those of you who know me well know that when I travel, I love to find a beach with a fun restaurant, an option for a cabana and fun/fresh cocktails! So after a bit of time at Playa Lagun we decided to head to Kokomo Beach.
Kokomo Beach is an adorable beach with a fun open-air restaurant that overlooks the crystal blue water, endless beach chairs and a fun dock in the middle of the bay for guests to swim out to. On top of all that, there is a swing out in the water that's the perfect place for a sunset picture. Cody and I had a blast at Kokomo even if we did spend too much time taking the perfect picture on the swing!
You would think our day would be complete after going right from the airport to two different beaches, but we decided one more stop was in order before checking into our hotel! Koraal Curaçao is a GREAT pitstop during the trip from the beaches (west side of the island) back to Wilmstead.
Koraal has two amazing restaurants, the one on pool level is ideal for sunset drinks and the second is more casual and right on the beach. Koraal also has an infinity pool with one of the best views on the island! Koraal's location is great if you're into snorkeling and the beach has a pier that you can swim out to. We loved the service and chic vibes plus the view was STUNNING!
After the sunset we decided it was time to leave Koraal and head back to Wilmstead where our hotel, Hotel Bijblauw, is located. After checking in we headed over to Saint Tropez next door for some sushi and dance music to finish off our night. Saint Tropez has a gorgeous infinity pool and fun music to go along with sushi and delicious cocktails! If you are looking for day party vibes in Wilmstead then this is your place! They also have a great dinner scene!
Hotel BijBlauw – Super Cute, Great Location, Amazing Food
When I was deciding where to stay in Curaçao I looked at a bunch of options but chose to stay at Hotel BijBlauw first because of its central location and the surrounding restaurants and nightlife.
BijBlauw is a family run hotel, when I arrived everyone knew my name which made me feel super at home! The service at this hotel is top notch.
The owners named the property, BijBlauw because blue evokes the color of the sea and sky which means positivity and happiness for them. The pictures of BijBlauw online are stunning and after spending some time on the island I can confirm that it's the cutest boutique hotel on the island! If you are a fan of the HGTV show Fixer Upper than you will love this hotel! I feel like Chip and Joanna designed this venue. The restaurant tables were made from restored shiplap!!! I mean could you ask for more in a tropical design?!?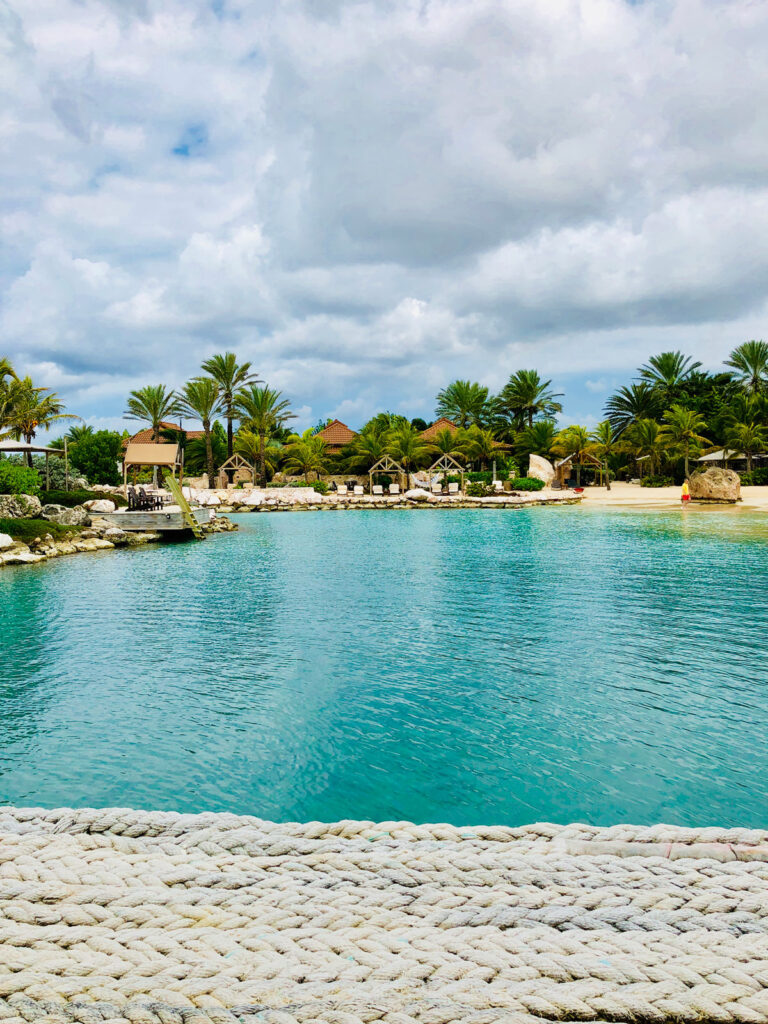 One of my favorite things about BijBlauw is it's more than a place to rest your head – it's home to the best restaurant on the island. I'm not just saying this … it is true! I live in New York (the food Capitol of the world) a I couldn't get enough of the restaurant. I had breakfast, lunch and dinner during my 3-night stay! And when our returning flight to NYC was cancelled we ended up coming back to BijBlauw for dinner because the food was so unique and flavorful. The chef at this restaurant deserves 5 stars!
Finally, the hotel has the most adorable concept store. I treated myself to a few cute things (unique jewelry, a new pair of sunglasses and a throw blanket) and Cody couldn't resist shopping either!
Kontiki Beach Resort – Secluded Jungle, Upscale Beaches & Stellar Food
Since I had never been to Curaçao before, I thought staying at a few hotels would be a great way to experience the diversity of the island. After spending a few nights at Hotel BijBlauw in the heart of Wilmstead, I wanted to spend some time at a beach hotel so moved to the Kontiki Beach Resort.
As you pull up to Kontiki Beach Resort, the staff welcomes you will chilled coconuts and has a driver take you to your private cottage. These cottage type rooms are gorgeous! I honestly felt like I was transported into a green jungle get away the minute we enter the property. I fell head over heels for the Kontiki Beach Resort! It's an incredibly unique setting – it feels like stepping into your own private jungle oasis as soon as you set foot on the property!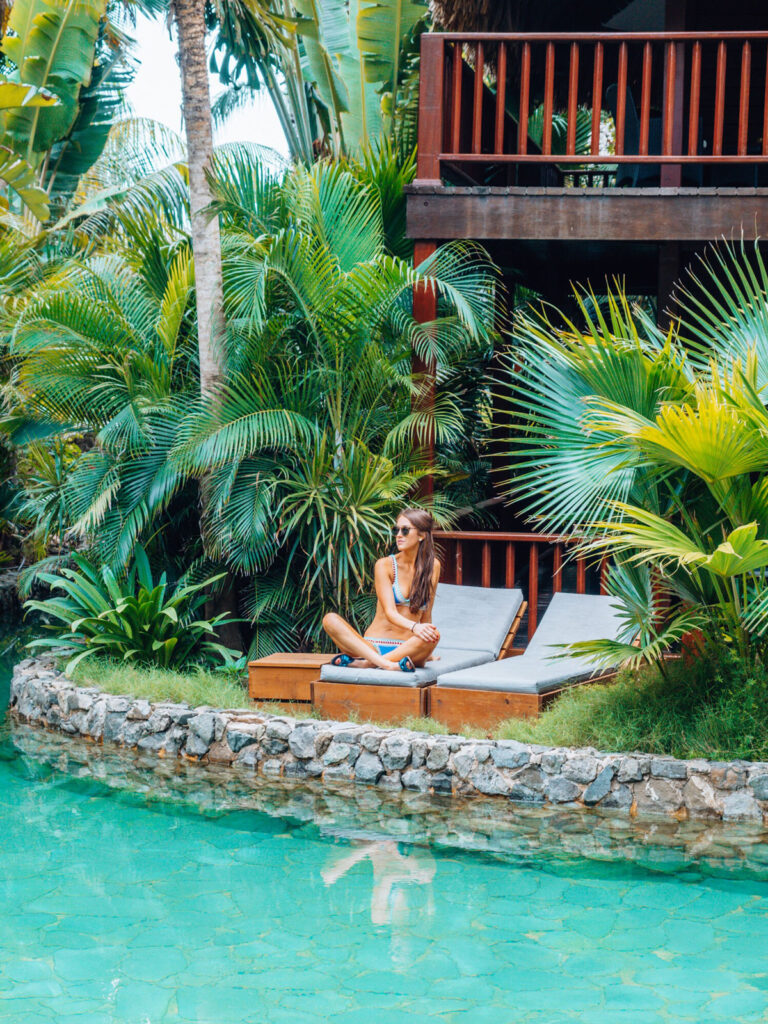 From your amazing room you can slide right into the swimming pool! The swimming pools feel like luxurious lagoons surrounding your private oasis. We loved the privacy of the jungle oasis that was only accessible by guest with hotel keys. You will notice tons of lizards and geckos which we found fascinating! We honestly felt like we had been transported into the amazon instead of just a mile down the road. In addition to being beautiful and luxurious, Kontiki Beach Resort also has some of the best beaches in Curaçao!
Kontiki has two great beaches, Cabana Beach and Mood Beach. Mood Beach is a new beach and, in my eyes, couldn't be more perfect! It has cabanas with waiter service, a great bar with delicious beach cocktails and fresh coconuts for hydration. The restaurant is 5-star and the food is divine! We were spoiled after sharing a meal with the new GM. He spoiled us rotten by choosing the best things off the menu for us to share! The restaurant has an open kitchen so you can see the 5-star chef work his magic on your meal. I really appreciated the attention to detail he gave when plating the food. If you are a chocolate lover like me, you must try the chocolate dessert that they offer! I went back for more each night we stayed at Kontiki! Mood Beach also has a swim out dock and you can see an amazing array of fish just by dipping your toes into the water!
Cabana Beach is another great beach that is a part of Kontiki resort. Like Mood Beach, it has cabana service and a ton of beach chairs. The drinks are great and you can get beach-side service. The only downfall with Cabana beach that I noticed was that guests from the local cruise ships could purchase day passes. These guests were only on the beach for a few hours but it was a bit annoying.
Personally, I preferred Mood Beach to Cabana Beach. It was a bit more upscale and the food was EXCELLENT! If you prefer more of a party scene then Cabana Beach is the place to be! One of the great things about Kontiki is that it has beaches for every personality type You can take you pick based on your mood! Non-hotel guests can visit both beach locations that Kontiki offers via a day pass for $25 – a great price for access to private beaches, great drinks and clean amenities.
Baoase – Super High-End Luxury, Very Private, 5-Star Service
Baoase was one of our last stops on our "explore Curaçao" tour! How do I describe Baoase?!? Have you ever wanted to travel to the luxury hotels in Bali or have your own private villa and beach like you see in the Maldives but you think I just can't imagine sitting on a plane for that many hours The solution is Baoase!!!
Boase is a true paradise! It's a very exclusive luxury property with 23 extravagant rooms, suites and villas, the resort is the ultimate getaway for luxury seeker. The hotel even has a helicopter landing pad for guests who prefer to fly in and not deal with the roads on the island.
The beach at Baoase is like no other beach in Curaçao. As I mentioned this property only has 23 rooms so you will have all the privacy and service that your heart desires. Most of the rooms have private beaches as well!
If you decide to go to the main beach you will have a cabana manager that will fulfill any request that you might have. While laying at your cabana you can pull the rope and a flag will pop up. This is a signal to your server that you need / desire something. This is a great system so if you want some alone time (with your travel companion, or in my case on this trip a book) you don't get disturbed. They also have amazing diving and snorkeling that you can swim to from the beach.
Boase is a place that encourages you to unplug from the day to day stresses in life, which is why they don't offer wifi on the beach or at the restaurant which I found refreshing. Don't worry you will have all the wifi you want in your private villa and private pool are.
As you would expect for a resort of this caliber the food was exquisite! The meals had my mouth watering and then the endless fresh snacks they had delivered to our cabana kept my tummy full We honestly felt spoiled rotten during our stay at Baoase!
If you feel like spoiling yourself to the max and escaping the rest of the world then this is the resort for you! That is why I would rank it the BEST honeymoon spot in the Caribbean and funny enough Travel and Leisure Magazine must agree with me as they rated it the #1 resort in the Caribbean!
Nightlife in Curaçao
Apparently, Friday and Sundays are the big nights for going out. I happened to be there Saturday through Wednesday, so I missed the Friday shenanigans but made up for it on Sunday night.
The place to go is Mambo Beach! There is a strip of restaurants, bars, and clubs! Whatever your style is they have it there! I ended up at a club called Wet and Wild. It's literally on the beach! Great DJ, cheap drinks, and the lovely ocean breeze!
Curaçao – A Gem of the Caribbean
All in all I think a 4-7 days is the perfect amount of time to explore all the corners of Curaçao!
You can stay in one property or mix it up like we did. I felt like mixing it up was the best way to explore everything and I wouldn't change a thing.
I honestly, love that Curaçao isn't on the map as far as American tourism is concerned. It made me feel like I was going someone super remote when it is only a 4-hour direct flight from New York! I also loved that I was the first of my friends to discover a place, though I'm sure by the time I go back lots of my friends will have a stamp from Curaçao on their passports!